Get to know us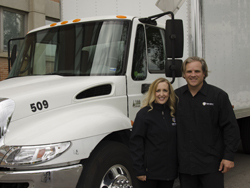 Why We Do What We Do
The transportation industry has incredible economic and societal importance. It takes teams of professionals with a global perspective, expert trouble shooting capabilities, effective technology integration and, above all else, committed business partnerships to maintain the rhythm of modern logistics. At Covert Logistics Inc, we believe transportation should happen seamlessly, which is why we pride ourselves in executing "behind the scenes transport".
Deep Family Roots in Transport
With deep family roots in transport, Rob and Caralyn Rabichuk are the forward-looking husband and wife team behind Covert Logistics. We have grown year over year from our modest beginnings under the name Connect Logistics since 2002 by offering firsthand understanding of customer needs and providing the best transport solutions in the market.
We specialize in offering unexpectedly reliable service across Manitoba and look forward to building a committed partnership with you.